Welcome to Ephesus!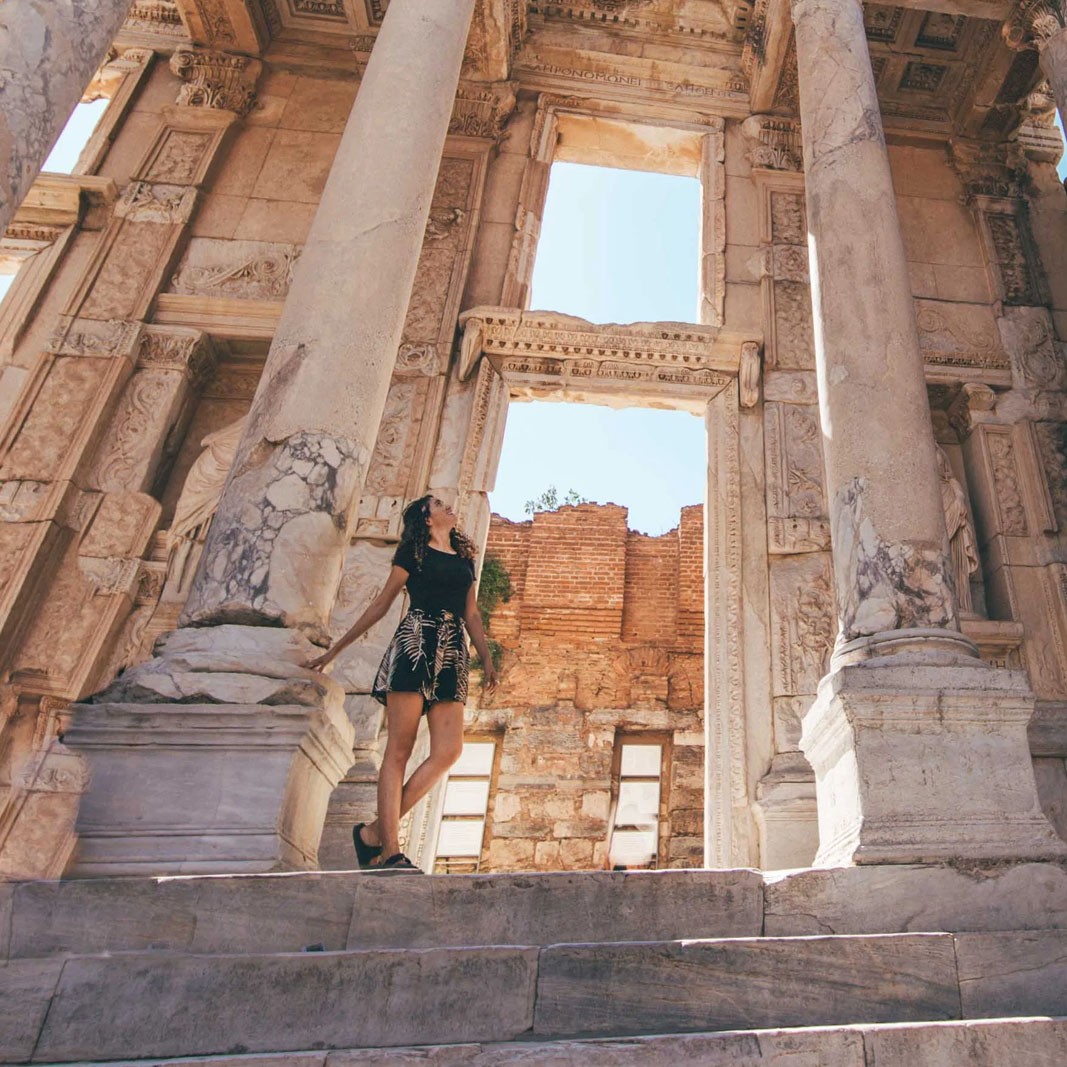 TravelShop Turkey offers most affordable Ephesus Tours as a Turkish Tour Operator and Travel Agency in Ephesus with quality Ephesus Tour services in Turkey. Book with the Ephesus Tourism Company TravelShop Turkey and get memorable vacations. We would like to inform you of all the services we provide in Ephesus including Ephesus sightseeing, activities, daily excursion, Ephesus package tours, package tours starting from Ephesus, Ephesus Airport transfers, Incentive & MICE Programs, Ephesus wedding organizations, adventure activities as below.
How to Go to Ephesus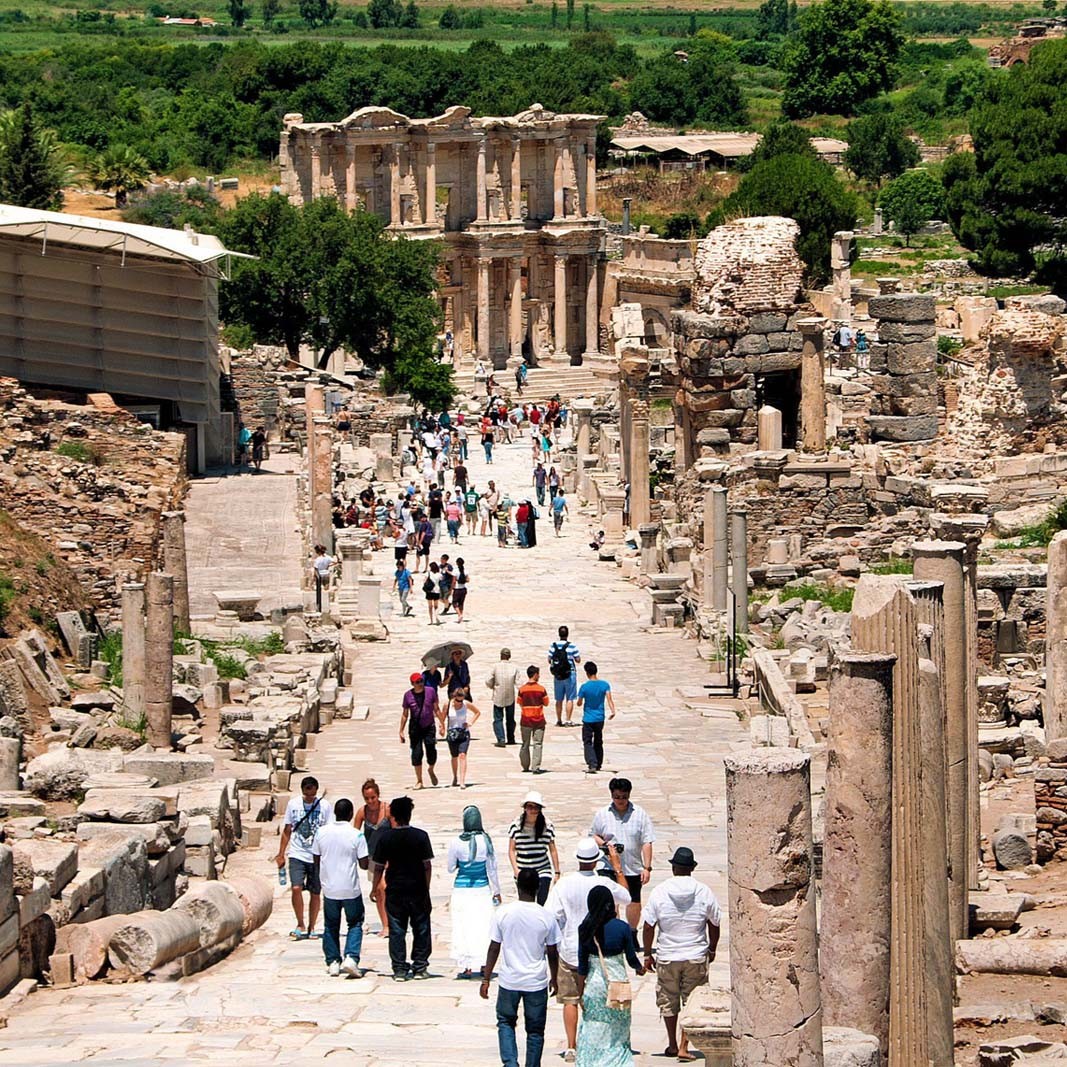 Ephesus is nearby Izmir with 70 kms distance and close to Kusadasi with 20 kms distance located within Selcuk county. Closest international airport is Adnan Menderes Airport in Izmir and Ephesus also has a small landing strip for private jets. Selcuk has a central bus station for the travelers coming by coach to Ephesus. Ephesus is very close to Greek Island Samos and in summer seasons, there are ferryboats available in the morning and the evening. You can directly fly to Ephesus via Izmir Adnan Menderes Airport from many countries. There are also many options on domestic flight within Turkey. If you want to take a public bus then that is too available from most cities of Turkey. You can also choose to drive up to Ephesus in your own transport with many comfortable highways.
Ephesus is also very close to two big harbors; Kusadasi Port and Izmir Port. Both harbors host hundreds of cruise ships that organize Ephesus shore excursions half and full day basis. We as Murti's Tours, organize shore excursions from the both Ports.
Ephesus Daily Sightseeing Tour Activities & Ephesus Daily Excursions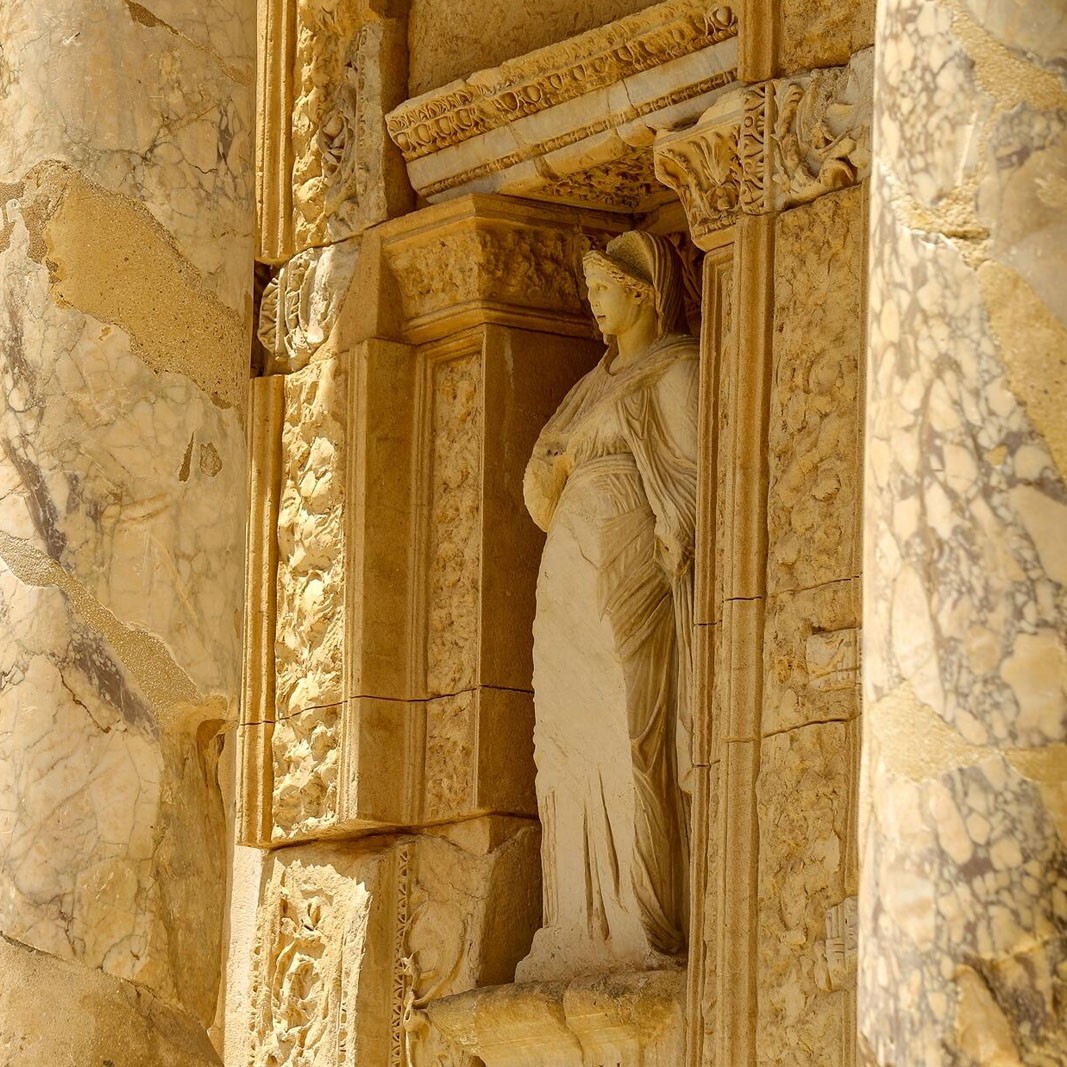 Ephesus is not just a resort but with its millions of years of culture and the history, it is also a touristic destination to be visited all year round. As a local Ephesus Tour Operator,we can offer Daily sightseeing tours in Ephesus covering most historical parts along with religion themed tour packages to the region known to house 7 churches of revelations. If you are planning to have a vacation in Ephesus, you can book your sightseeing trip in Ephesus with a local travel agency, that is TravelShop Turkey. Some of our Daily tour packages in Ephesus are; Half Day Private Guided Ephesus Tour, Full Day Private Guided Ephesus Tour, Full Day Regular Ephesus Tour, Skydiving Ephesus and we have many more Daily sightseeing tour programs available. If you are looking for a tailor made tour itinerary and Daily excursions in Ephesus, as a DMC in Ephesus, we can prepare as you wish.
All Inclusive Vacations in Ephesus
Although Ephesus has no inclusive option we provide all inclusive vacations in our combined packages connecting Ephesus . In Ephesus, you will find almost many luxury hotels that offer Ephesus holiday packages. Some hotels are based on ultra all inclusive providing ultra all inclusive services in Aegean and Mediterranean regions.
What is all inclusive concept in Ephesus?
All inclusive means that you will get breakfast, lunch and dinner, plus snacks interim meals in between. All local alcoholic beverages to include wine, beer, vodka, raki, gin and all cold and hot non-alcoholic beverages served at free of charge that comes through all inclusive concept in our tour packages also include Ephesus as a destination . This includes the facilities of sauna, Turkish bath and such to be at your service at no charge however, any personal treatment service as massage would be an extra.
What is ultra all inclusive concept in Ephesus?
Ultra all inclusive means that you will get breakfast, lunch and dinner, plus snacks interim meals in between. All local alcoholic beverages to include wine, beer, vodka, raki, gin and all cold and hot non-alcoholic beverages served at free of charge also some imported luxury beverages such as imported whiskey, vodka etc. that come through ultra all inclusive concept in our toru packages to cover Ephesus as well.. This includes the facilities of sauna, Turkish bath and such to be at your service at no charge however, any personal treatment service as massage would be an extra.
As a Tour Operator in Ephesus, we combine daily sightseeing tours to Ephesus with this all inclusive concept and provide as a complete tour package. If you are planning a holiday tour to Ephesus, one of our all inclusive tour itineraries is definitely would suit you. Some of our all inclusive tour packages starts from Ephesus with a domestic flight to Ephesus as a combined tour package on offer for you to take advantage of. Please check our escorted all inclusive tour packages in Ephesus.
If you are looking for a DMC in Ephesus, we are here to support you all the way with several different options available. When you book your vacation in Ephesus with Travelshop Turkey, you will not worry about any unexpected surprises and everything that you desire will be included in your package and in all-inclusive 5 star hotels of Ephesus with Murti's Tours privilige.
Wedding Events in Ephesus
Ephesus is a unique destination for the ones willing to have a special wedding ceremony. Ephesus is very famous of boutique hotel concept and indoor & outdoor ceremonial venues. As a wedding planner in Ephesus, we provide the wedding venue whether indoor or outdoor, private beach party, henna night, wedding night organizations, complying with groom and bride's special requests. If you require an equipment company, as an event organizer in Ephesus, we would be happy to provide all that you may need such as sound systems, decorations and entertainment along with many other availabilities.
We also provide you all kinds of meal menus as per your request including Indian Cuisine with Jain, Veg or Non-Veg options. International cooks can prepare any dish you may like or bring your own chefs for an exclusive feast. For large wedding groups in Ephesus, we can provide private charter flights, yacht cruise, private transportation, private sightseeing, private airport transfers, private assistance and decorations and all other exclusive requests to be done by us destination wedding company in Ephesus.
The wedding is one of the most special days of the couples and relatives. Our Company 'Travelshop Turkey'' as an International Wedding Planner in Turkey, Ephesus, provides the best service for wedding groups for the wedding in Ephesus Turkey by combining the culture of each couple anywhere in the world with our culture ''hospitality'' since we attach importance to the wedding will be held in Turkey. We are very happy to share the common joy with the wedding groups of different cultures who came from different parts of the world. Each wedding for us is a new culture and new friends. If you are looking for a destination wedding company in Ephesus, we are here to help.
Ephesus Conference, MICE and Events
Ephesus is one of the best destinations for Conference, MICE and Events. If you are looking for a new destination on your Conference, MICE and Events, as a Conference, MICE and Event in Ephesus, we can cater for your needs. We can offer you many different luxury 5 star hotels in line with your budget. If you have an enquiry on Conference, MICE and Event, Ephesus is a very comfortable place to be. You may have your event in a luxury hotel conference room or select out of our sightseeing activities during your meetings. Or, you can just relax and have a hiking time to wander around Ephesus. As an Ephesus event company, we are here to help you with all kinds of enquiries you may have. As a company with over 15 years of experience in the field of Conference, MICE and Event in Ephesus, we can cover all your requests and organize your happening in the range of your budget.
Ephesus Adventure Safaris & Ephesus Attractions
Ephesus is one of the most favourite destinations of the world for its adventure activities with its forests, mountains and trail paths. As a tour operator in Ephesus, we can provide all types of adrenaline filled activities and popular attractions such as Adventure Safaris Ephesus, Horse Safari Ephesus, Jeep Safari Ephesus, Quad Safari Ephesus, Paint Ball Tour Ephesus, Scuba Diving Ephesus, White Water Rafting as well as Turkish Bath Ephesus, Turkish Night Ephesus and many more on offer as Travelshop Turkey, the destination management company. Ephesus has so many options for entertainment such as Turkish Night in Ephesus and if you have any special demand, we are ready to meet.
Ephesus Airport Transfer Services
We can provide you private airport transfer services in Ephesus. All you need to do is to inform us your arrival and departure times with flight codes and number of your pax.
Ephesus Car, Van and Bus/Coach Rental
We can provide you coaches, vans and rent a car in Ephesus upon your requests. All our vehicles are fully insured and has brand names that are equipped with all your necessities. If you need a rental company in Ephesus, we are happy to provide the best services at competitive rates.
Ephesus Motorbike Rental
In Ephesus, we will assist you in renting a motorbike and provide quality rides at best prices.
Here is Some Information on Ephesus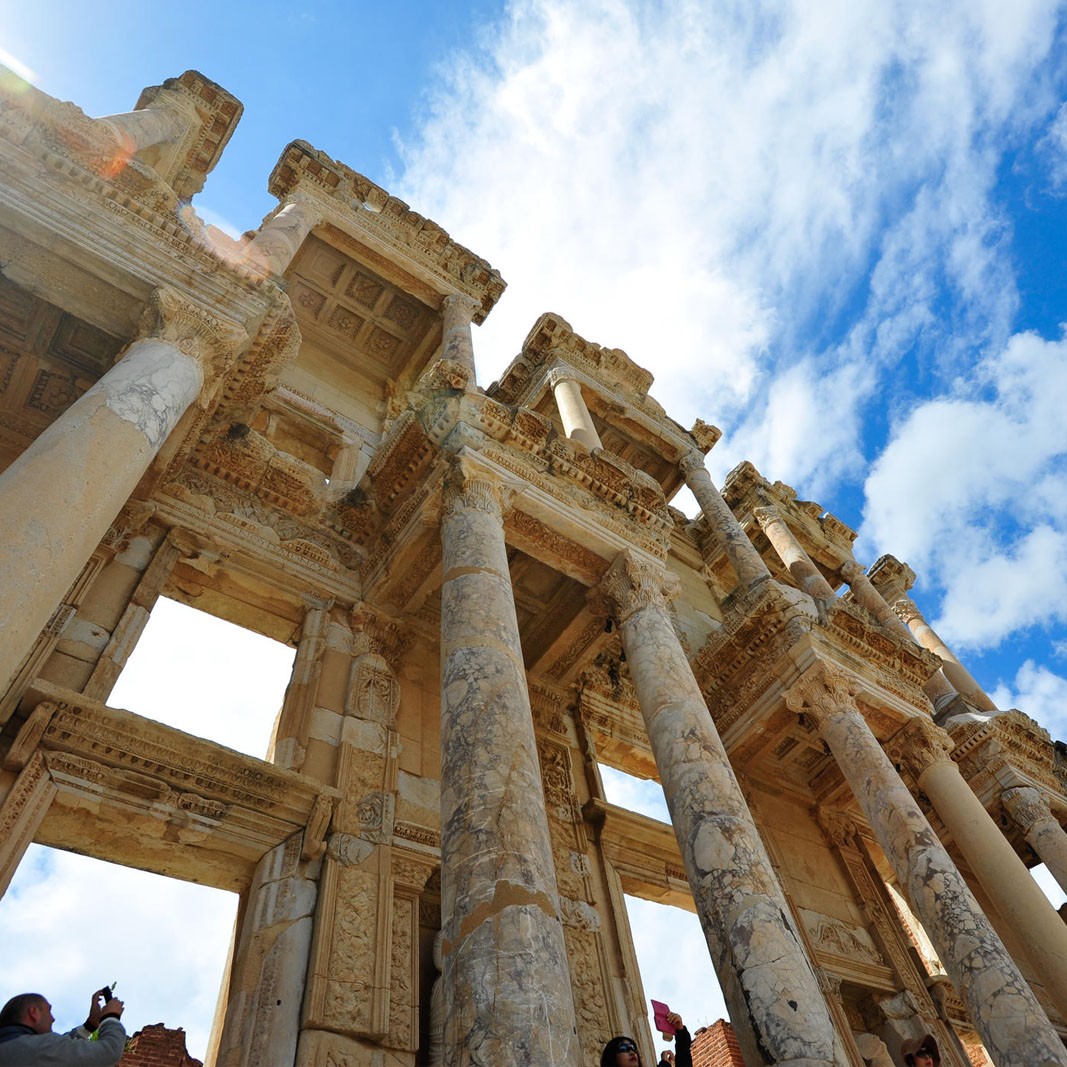 According to ancient inscriptions, Ephesus is thought to have been inhabited since around 3000 BC, roughly the same time as Smyrna, and evidence of Ion, Roman, Byzantine, Seljukian and Ottoman civilizations are still seen today. The ancient city was a good center for trading, mainly because of its location close to coast, and religion. It was known for the cult of Cybele, the Anatolian fertility goddess, then later for Artemis, the virgin goddess for which a temple was built in her honor.
The temple was destroyed in 356BC, and when Alexander the Great passed through in 334 BC he offered to pay for the cost of a new construction, provided it was dedicated to him. The Ephesus people declined, and rebuilt it with great success. When the Romans made Ephesus their provincial capital, it became a busy town with great commercial, trading and political importance, and a population that grew to around 250,000. A significant Christian community grew, and the city was visited by St John the Evangelist in the 1st century, then by St Paul, who was there between 51 and 53 AD and wrote some of his epistles. It was also the venue of two Ecumenical Councils.
But the success of Roman Ephesus began to dwindle, mainly because of problems connected to the harbor, which was the main source of trade. The Cayster River was pushing silt up the harbor and despite attempts to dredge it and rebuild the harbor, the sea was pushed back to Pamucak, 4km away, and therefore Ephesus lost its source of wealth. By the 6th century, the city was unlivable and was shifted near to St John's Basilica, and by 1090 it was taken over by the Turks.
Ephesus Ruins This huge site, one of the best preserved ancient cities in the Mediterranean, will take most of the day to see every part in detail. It is easily approached by road from Selcuk, or by public transport from Kusadasi. Vedius Gymnasium and Stadium Soon after the entrance to the site are the ruins of Vedius Gymnasium, which was built by a wealthy local businessman in the late 2nd century, in the name of Vedius Antonius. It is a magnificent structure, built as a venue for sporting and cultural education and contains exercise fields and covered rooms, baths, changing rooms, a courtyard and ceremonial room in the centre. To the south is the Stadium, where races, games, and Olympic events took place.
Acropolis: there is a building dated to 6th century BC on a hill known as Acropolis at opposite side to stadium. There is a temple dated to years of 350 BC at north - west of the hill. Byzantine Public Baths, after Stadium way coming across to the Byzantines public baths. Church of St Mary (Double Church) Near the Byzantine public baths, this Church holds a special importance in Christian history. Built between the 2nd and 4th centuries AD, it was originally a museum and venue for lectures and debates. It was destroyed by fire in the 4th century and rebuilt as a church, which became the venue of the third Ecumenical Council in 431. It is the first church to be dedicated to the Virgin Mary.
Port Public Baths, the public baths first built at 2nd century AC, it restored and some changes made on building at the 4th century Empire in empire Konstantin's period. Arkadiane (Port Street) beyond the church is Arcadian Way, a huge wide street over 500m long and 11m wide. Named after 5th century Byzantine Emperor Arcadius who renovated it, it was the street which ran towards the port, and where kings were greeted and religious ceremonies took place. The 400m long Marble Street, also known as Sacred Way, begins at the base of the theatre and runs alongside the agora and Serapes Temple, and was rebuilt during the 5th century.
Theatre, this is one of most beautiful and best preserved of all the ruins, and is used as the venue for the annual Ephesus Festival. With a capacity of 25,000, it was built during the Hellenistic period, with reconstruction continuing during Empire Claudius's times, and finalized between 98 and 117 AD. Marble Street Marble floored street that starts from Magnesia gate placed at south - east of Ephesus and lie towards the Koresos gate placed at north - west of city, approximately 400 m long street is rebuilt at the 5th AC.
Library of Celsus The library is adjacent to the commercial Agora, built by Asian consul Gaius Julius Aquila, in 135AD, in memory of his father who is entombed here. In a building showing all the characteristics of Roman architecture, the front is ornately decorated with replicas of statues of four women between the front columns, symbolising mind, destiny, science and wisdom. The originals are in the Vienna Museum. Love House When you go up from marble street, at the cross section point with Kuretler street Love house can be seen. This interesting house dated to first century AC, consist of one main hall and many rooms connected to this hall. It is estimated that the mosaic girl portraits found in love house are figures of working girls in this building. It is very interesting that in the love house there is and heating and cooling system present equivalent to today's air condition system. It is known that there were wine granaries, huge ovens, public baths, pools, bed rooms, conference saloons and a magnificent library.
Skolastika Public Bath A wealthy Roman woman, Skolastika, restored these baths in the 5th century, although they were probably built 400 years earlier. They were heated by a central heating system, and are an interesting example of the use of marble. Her headless statue adorns the entrance. Temple of Domitian This is the first temple to be built in the name of an emperor, dedicated to Emperor Domitian (AD 81-96). Opposite this was the governmental agora, which was placed in the most central and beautiful place in the city. The head and arms are the only remaining pieces of the huge statue, which are exhibited at Izmir Archaeology Museum, and the entrance pedestals are at Ephesus Museum.
City Hall (Prytaneion) on the right of the assembly palace, a Hestia altar with a sacred fire burning continuously is accepted as a holy site. This was the venue of political duties, important ceremonies and official greetings, and one of the most important religious places in Ephesus. Odeon (Bouleuterion) Odeon that built by Publis Vedius Antonius a rich man of Ephesus at 2nd century AC, cover was wooden plated at its times. Artemis Temple It is known that first Ephesus settlements was built around these temple place. Temple collapsed by an earth quake than ephesusians built temple more imposing by the support of Roman Empire. Ephesus Artemis Temple known as one of the seven wonders of world today only base ruins remained.
St. Jean Basilica, Basilica that built by Byzantine Empire Justinian for the name of St. Jean at 6th AC, is take place on Ayasuluk hill. Cross planed building have entrance at west is 40 X 110 m. sized, and a domed type basilica. Seven Sleepers, According to rumor, before the acceptance of Christianity as an official religion, seven young men fled from Ephesus in the 3rd century and took refuge here. They sealed up the cave and fell asleep, and were woken up 200 years later by an earthquake which broke the seal. When they awoke and walked into the town, they realized that Ephesus was now an official Christian city. It was deemed to be a miraculous event, and when the young men died they were buried in the same cave, which is now a Byzantine-era grotto. The adjacent building is named after them and has a large monument, many rock-engraved tombs, two churches and catacombs.
The Virgin Mary House Beyond Ephesus and on Bulbul Dag (mountain), 8km southwest of Selcuk, the monument is thought by some to be where the Virgin Mary died, and is visited by Christian and Muslim pilgrims from around the world. The small stone house is now a chapel, and probably dates back to the 4th century, although the foundations are thought to be 1st century. It was not until a German nun, Catherine Emmerich (1774-1824) claimed that she had visions of Mary living in 'a small, stone house' in even though the nun had never left Germany. Following her descriptions, 19th century clergy discovered the foundations of the house, which was then verified by a Papal visit in 1967. It has since been accepted that Mary spent her last few years here until she died at the age of 101.
The Feast of Assumption, on August 15, is celebrated here by the Orthodox Greeks, and Mass is said daily. The church can only be accessed by car, as no public buses come through the dense forest surrounding it. TravelShop Turkey offers most affordable Ephesus Tours as a Turkish Tour Operator and Travel Agency in Turkey with quality Ephesus Tour services in Turkey. Book with us,the Ephesus Tourism Company TravelShop Turkey and get memorable vacations
When you book your Ephesus Shore Excursions in Turkey with us, you have our guarantee that no promises will be left broken, that every aspect has been taken into account for your enjoyment, and all the hard work is done on your behalf. Our Tours in Ephesus cover historical, cultural as well as culinary, natural aspects and other religious themed tours as Biblical tour packages on offer. You can check out our guaranteed departure Ephesus tours available from Kusadasi Port and Izmir Port. If you are coming in a cruise ship, we would host you as a Cruise Ship Excursions Operator in Izmir and Kusadasi, we would cater for your needs. You can book Daily excursions to Ephesus including Virgin Mary House, Artemis Temple, Ephesus Museums and Seven Sleepers' Cave. If you are looking for shore excursions to Ephesus, as a Shore Excursions Tour Operator in Ephesus, we would be happy to assist you in every way we can.
Our Ephesus tour packages in Turkey are offered with private and reguar prices from 1 pax to 40 pax. You can get better rates for the number of pax for your Ephesus Vacations. We are one of the largest Tour Operators in Turkey with our office in Ephesus and have all services available through the remarks below. We are an Ephesus Local Destination Management Company (DMC), Travel Agency, officially titled as Murti's Tour with registered tourism agency number of 5291 by the Ministry of Tourism. As a Ephesus Daily Tour Operator, we will provide you the best services possible at the highest quality with affordable rates and without any broken promises.
Most importantly we want to offer the best and the most efficient Ephesus Tour vacations throughout Turkey, whilst maintaining quality of service, quality of life and value for money.