Woman Art Tours Turkey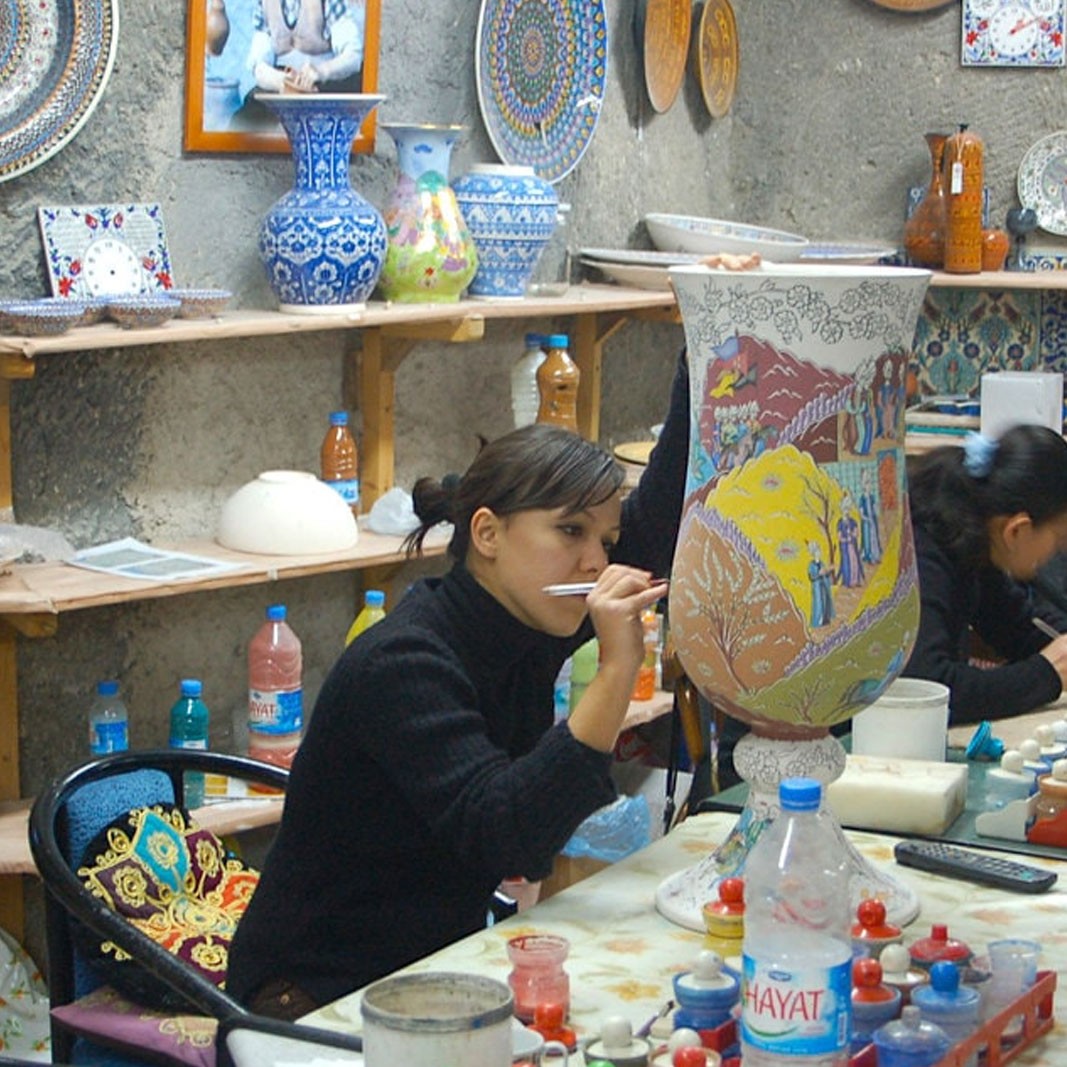 We all know the great effect of arts over us that builds a love for nature within that artists have utmost respect for their surroundings. It is clearly noticeable that their love for life never goes down. Of all these effects, we notice something different about the artist when outdoors. It is a fact that human psyche requires art for a healthy form of life. Well that said, as Travelshop Turkey has arranged unique Turkey Tours for women who are into arts.
Through these programs you will discover the nature and culture of destinations all along where you will witness artworks up close and personal not to mention meet the artists while making the great artefacts and learn a few tricks from them as making your own creations.. Turkey Women Arts Tour are especially good for those women love cultural trips with rich itinerary and every little details worthwhile seeing, joining wonderful activities along the way in the name of arts.
Places to see during these Tours
We have a few options on Women Arts Tours all with different destinations from 4 to 5 days Istanbul, 7 days in Istanbul and Cappadocia and some in Istanbul, Sirince, Ephesus and Kusadasi, 8 day ones in Istanbul, Cappadocia, Sirince,Ephesus and Kusadasi with different variations. You may always choose you with the assistance of Tour Consultants of ours who are equipped with the necessary skills. During these tours, you will take your place in great activities such as cooking Turkish dishes (and eating them too) in culinary workshops, ceramic lessons, oriental dancing, folkloric dances while visiting many authentic destinations throughout Turkey that you will definitely enjoy and cherish .

TravelShop Turkey offers most affordable Women Art Tours as a Tour Operator and Travel Agency in Turkey with quality Women Art Holiday services in Turkey. Book with Women Art Turkey and get memorable vacations. If you've been looking for a memorable destination with rich history, spectacular landscapes , History, Culture, great beaches, Special culinary Lessons, Belly Dancing and Folklore Classes, Ceramics Lessons, leather and textiles that we will see including carpets, kilims, clothing and housewares such as pillow covers and more then you must come to Turkey! Located between two continents, Turkey has been a crossroads for civilizations for thousands of years. Some of the best tours available today are those which offer the intimacy of small, specialized groups. Women looking for travel companions with similar interests often find that taking a trip with a group of women is more fun and less stressful. Below are some our tours and other organizations which offer group tours for women looking to share their journeys with other women.
4 Day "Woman Arts" Tour in Istanbul
5 Day "Woman Arts" Tour in Istanbul
7 Day "Woman Arts" Tour Istanbul – Cappadocia Tour
7 Day "Woman Arts" Tour Istanbul – Kusadasi Tour
10 Day "Woman Arts" Tour Turkey
8 Day "Woman Arts" Tour Turkey
The tours for women listed range from high-speed group adventures to relaxing scenic vacation getaways to life-changing cultural immersion travel experiences. Our Women Art Tours in Turkey cover historical, cultural as well as culinary, ecological destinations. You can see our packages with Women Arts theme in guaranteed departure tours. If you are looking for a small group tour on your vacation then our office in Istanbul will prepare the most suitable packages for you whether it is privately or on regular basis. Our Women Art tour packages cover destinations such as Istanbul, Canakkale, Troy, Gallipoli, Pergamon, Kusadasi, Ephesus, Pamukkale, Bodrum, Marmaris, Dalyan, Fethiye, Oludeniz, Antalya, Konya, Cappadocia, Ankara, Black Sea region and whole Anatolia, plus Mediterranean and Agean Sea coasts with yacht cruise options available. We offer specific Women Arts trips, have different minimum ages required for travel. While on tour, there may be some age restrictions for included or optional activities, such as horseback riding, river rafting or snorkelling; contact us at travel consultant for details.
So why not spend some quality time, feeling the magic of foreign cultures and once-in-a-life time experiences that you will never forget. Our Women Art packages in Turkey are offered with private and regular prices from 1 pax to 40 pax. You can get better rates for the number of pax in your groups. When you book our Women Art tour packages on our website, you will get professionally English speaking tour guides, access to all museums as mentioned in the itineraries, airport transfer, luxury transportation, selected quality hotels, sightseeing, lunch and dinner as mentioned in the escorted tour program. Some of our programs also include domestic flights. We are one of the largest Tour Operator in Turkey and have all services available through the remarks below.
Local Destination Management Company (DMC), Travel Agency, officially titled as Murti's Tour with registered tourism agency number of 5291 by the Ministry of Tourism. As a Turkish Tour Operator, we will provide you the best services possible at the highest quality with affordable rates and without any broken promises.
Most importantly we want to offer the best and the most efficient Women Art Tours throughout Turkey, whilst maintaining quality of service, quality of life and value for your money.