Welcome to Antalya!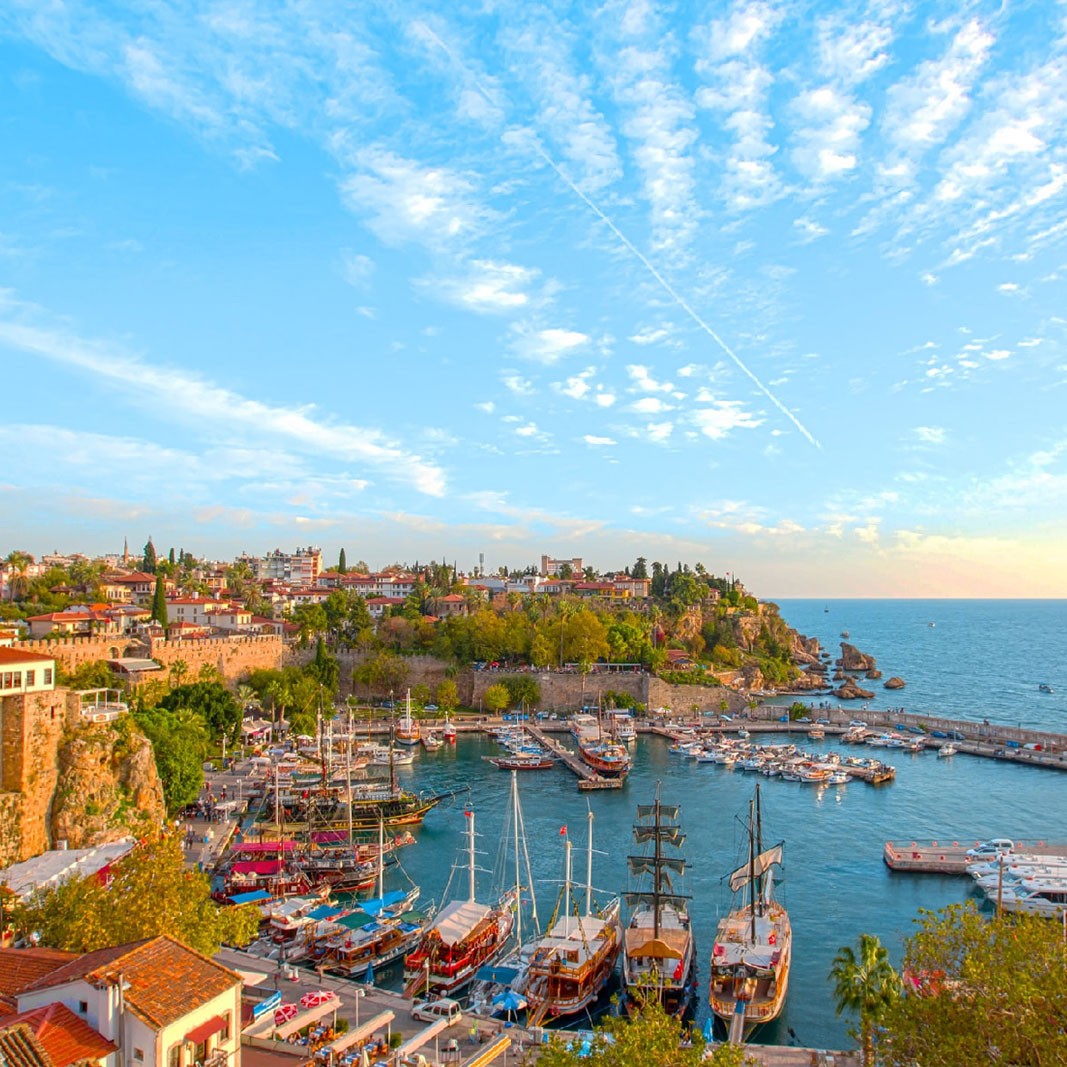 TravelShop Turkey offers most affordable Antalya Tours as a Turkish Tour Operator and Travel Agency in Antalya with quality Antalya Tour services in Turkey. Book with the Antalya Tourism Company TravelShop Turkey and get memorable vacations. We would like to inform you of all the services we provide in Antalya, as below. We also would like to give you information all about Antalya.
How to Go to Antalya
Antalya has an international Airport and bus station. You can directly fly to Antalya from many countries. There are also many options on domestic flight within Turkey. If you want to take a public bus then that is too available from most cities of Turkey. You can also choose to drive up to Antalya in your own transport with many comfortable highways.
Antalya Daily Sightseeing Tour Activities & Antalya Daily Excursions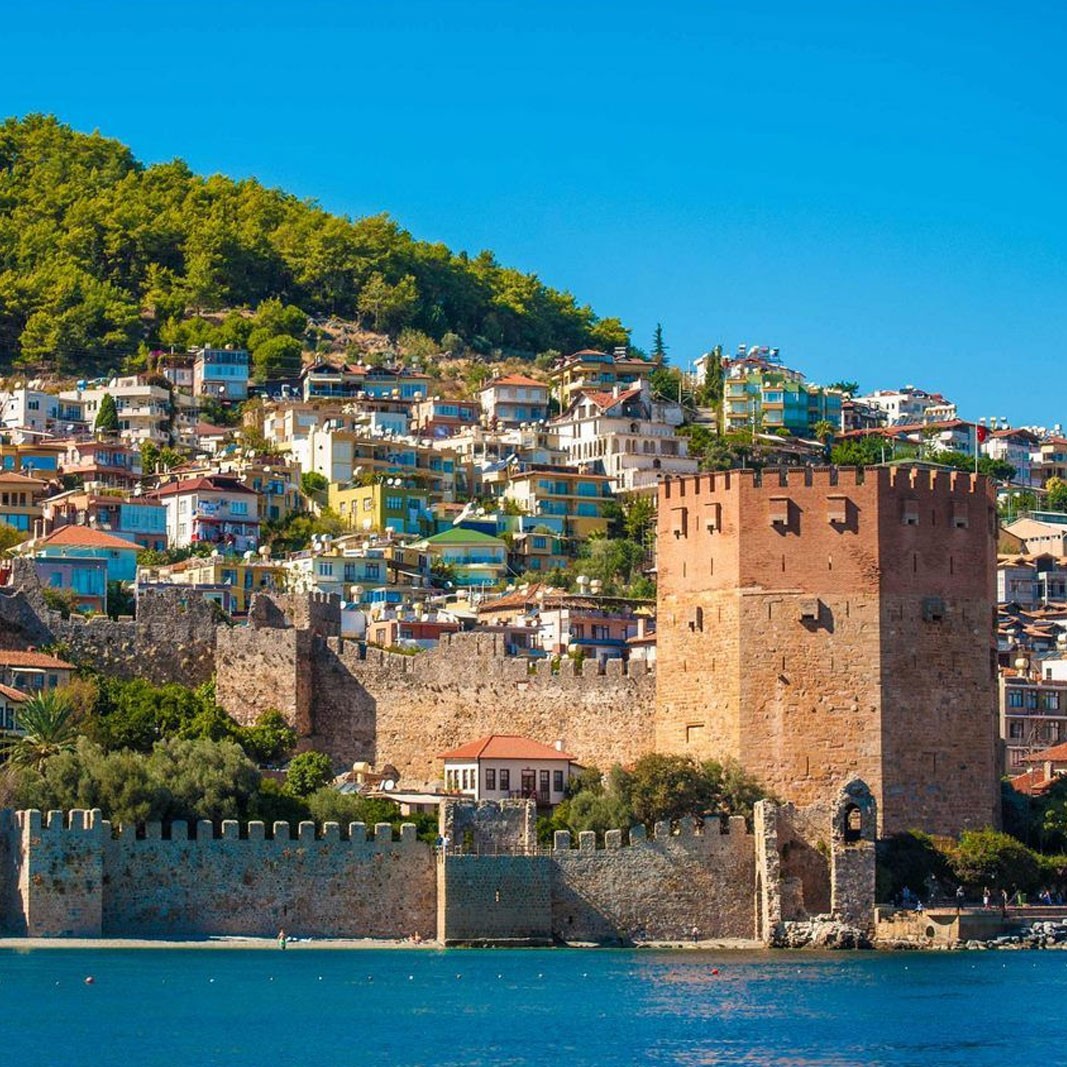 Antalya is not just a resort but with its millions of years of culture and the history, it is also a touristic destination to be visited all year round. As a local Antalya Tour Operator,we can offer Daily sightseeing tours in Antalya covering most historical parts such as Aspendos, Perge, Antalya old city, waterfalls along with religion themed tour packages. If you are planning to have a vacation in Antalya, you can book your sightseeing trip in Antalya with a local travel agency, that is TravelShop Turkey. Some of our Daily tour packages in Antalya as follow; Daily Aqualand Tour, Antalya City Tour, Aspendos Perge Side, Demre Myra Kekova, Duden Waterfalls Tour, Pamukkale Tour, Panoramic Tour, Termessos Karain Cave and Turkish Village Tour and we have many more Daily sightseeing tour programs available. If you are looking for a tailor made tour itinerary and Daily excursions in Antalya, as a DMC in Antalya, we can prepare as you wish.
All Inclusive Vacations in Antalya
Antalya is one of the best destinations for all inclusive vacations all around the World. In Antalya, you will find almost one thousand luxury hotels that offer all inclusive Antalya holiday packages. Some hotels are based on ultra all inclusive providing ultra all inclusive services in Antalya region.
What is All Inclusive Concept in Antalya?
All inclusive means that you will get breakfast, lunch and dinner, plus snacks interim meals in between. All local alcoholic beverages to include wine, beer, vodka, raki, gin and all cold and hot non-alcoholic beverages served at free of charge that comes through all inclusive concept in Antalya. This includes the facilities of sauna, Turkish bath and such to be at your service at no charge however, any personal treatment service as massage would be an extra.
What is ultra all inclusive concept in Antalya?
Ultra all inclusive means that you will get breakfast, lunch and dinner, plus snacks interim meals in between. All local alcoholic beverages to include wine, beer, vodka, raki, gin and all cold and hot non-alcoholic beverages served at free of charge also some imported luxury beverages such as imported whiskey, vodka etc. that come through ultra all inclusive concept in Antalya. This includes the facilities of sauna, Turkish bath and such to be at your service at no charge however, any personal treatment service as massage would be an extra.
As a Tour Operator in Antalya, we combine daily sightseeing tours in Antalya with this all inclusive concept and provide as a complete tour package. If you are planning a holiday tour to Antalya, one of our all inclusive tour itineraries is definitely would suit you. Some of our all inclusive tour packages starts from Istanbul with a domestic flight to Antalya as a combined tour package on offer for you to take advantage of. Please check our escorted all inclusive tour packages in Antalya.
If you are looking for a DMC in Antalya, we are here to support you all the way with several different options available. When you book your vacation in Antalya with Travelshop Turkey, you will not worry about any unexpected surprises and everything that you desire will be included in your package and in all-inclusive 5 star hotels of Antalya with Murti's Tours privilige.
Wedding Events in Antalya
Antalya is a unique destination for the ones willing to have a special wedding ceremony. Antalya is very famous of all inclusive hotel concept, private beaches, indoor and outdoor ceremonial venues. As a wedding planner in Antalya, we provide the wedding venue whether indoor or outdoor, private beach party, henna night, wedding night organizations, complying with groom and bride's special requests. If you require an equipment company, as an event organizer in Antalya, we would be happy to provide all that you may need such as sound systems, decorations and entertainment along with many other availabilities.
We also provide you all kinds of meal menus as per your request including Indian Cuisine with Jain, Veg or Non-Veg options. International cooks can prepare any dish you may like or bring your own chefs for an exclusive feast. For large wedding groups in Antalya, we can provide private charter flights, yacht cruise, private transportation, private sightseeing, private airport transfers, private assistance and decorations and all other exclusive requests to be done by us destination wedding company in Antalya.
The wedding is one of the most special days of the couples and relatives. Our Company 'Travelshop Turkey'' as an International Wedding Planner in Turkey, Antalya, provides the best service for wedding groups for the wedding in Antalya Turkey by combining the culture of each couple anywhere in the world with our culture ''hospitality'' since we attach importance to the wedding will be held in Turkey. We are very happy to share the common joy with the wedding groups of different cultures who came from different parts of the world. Each wedding for us is a new culture and new friends. If you are looking for a destination wedding company in Antalya, we are here to help.
Antalya Conference, MICE and Events
Antalya is one of the best destinations for Conference, MICE and Events. If you are looking for a new destination on your Conference, MICE and Events, as a Conference, MICE and Event in Antalya, we can cater for your needs. We can offer you many different luxury 5 star hotels with all inclusive hotel concept in line with your budget. If you have an enquiry on Conference, MICE and Event, Antalya is a very comfortable place to be. You may have your event in a luxury hotel conference room or select out of our sightseeing activities during your meetings. Or, you can just relax and have sunbath on the beaches of Antalya. As an Antalya event company, we are here to help you with all kinds of enquiries you may have. As a company with over 15 years of experience in the field of Conference, MICE and Event in Antalya, we can cover all your requests and organize your happening in the range of your budget.
Antalya Adventure Safaris & Antalya Attractions
Antalya is one of the most favourite destinations of the world for its adventure activities with its forests and two large streams, mountains, trail paths. As a tour operator in Antalya, we can provide all types of adrenaline filled activities and popular attractions such as Adventure Safaris Antalya, Horse Safari Antalya, Jeep Safari Antalya, Quad Safari Antalya, Paint Ball Tour Antalya, Scuba Diving Antalya, White Water Rafting as well as Turkish Bath Antalya, Turkish Night Antalya and many more on offer as Travelshop Turkey, the destination management company.
Antalya by Boat Cruise
Antalya has one of the longest and most popular seasides with beautiful beaches spread around. As a Travel Agency in Antalya, we provide yacht cruises, daily boat tours, snorkelling, parasailing, diving, water sports, surfing and such activities Boat trip at the beautiful bays of Antalya will be a very enjoyable and unforgettable excursion when you are at holiday in Turkey. With beautiful bays, turqoise waters, pine forests and view of splendid Taurus Mountains you will spend a magical day on a beautiful wooden boat with Murti's Tours.
Antalya by Night
Turkey, as well as one of Europe's most popular tourist cities attracting Antalya Nightlife, in addition to the natural beauty of life with endless entertainment welcomes millions of visitors each year. Antalya is the number one holiday destination for tourists from all around the world! You can find night clubs that are entertaining to the first light in the morning, small concerts for those who like live music, or rock-filled rock bars for every taste. With Travelshop Turkey's exceptional programs, you can get the best of Antalya at night.
Antalya has so many options for entertainment such as Turkish Night in Antalya and if you have any special demand, we are ready to meet.
Antalya Airport Transfer Services
We can provide you private airport transfer services in Antalya. All you need to do is to inform us your arrival and departure times with flight codes and number of your pax.
Antalya Car, Van and Bus/Coach Rental
We can provide you coaches, vans and rent a car in Antalya upon your requests. All our vehicles are fully insured and has brand names that are equipped with all your necessities. If you need a rental company in Antalya, we are happy to provide the best services at competitive rates.
Antalya Motorbike Rental
In Antalya, we will assist you in renting a motorbike and provide quality rides at best prices.
Antalya is located on the Mediterranean coast of south-west Turkey, between the Taurus Mountains and the Mediterranean Sea.
We would like to give you some information about Antalya.
Antalya is the center of Turkey's tourism industry, attracting 30% of foreign tourists visiting Turkey.
The province of Antalya corresponds to the lands of ancient Pamphylia to the east and Lycia to the west. It features a shoreline of 657 km (408 mi) with beaches, ports, and ancient cities scattered throughout, including the World Heritage Site Xanthos. The provincial capital is Antalya city with a population of 714,000.
The highest point of the Taurus Mountains is Akdag at an altitude of 3025 meters. Located to the northwest of the city center and at a distance of 50 km (31 mi) is the Saklikent ski and recreation center on Beydaglari. Here one can ski and then go down to the shore and into the sea during the months of January-April. In Saklikent there are two tele-ski and ski courses along with villas and accommodation facilities available in the area. Situated on Bakirli Hill behind Saklikent is the Antalya National Space Observatory.
It is possible to watch meteor showers and shooting stars on certain days of the year. In rivers rafting and canoeing sports and on the Taurus Mountains jeep safari, hunting and trekking tours are organized. Alternatively, there is rock-climbing, bird watching tourism, photo-safari, mountain tourism, line fishing and health tourism at the thalassic and dialysis centers in Geyikbayiri. Holy tourism activities are organized in Myra and Patara where St Nicholas was born and lived. The eternal flames of Chimaera that was the inspiration for the Chimera myth is also located in Antalya. In the area of Belek, 30 km (19 mi). East of Antalya, there is a big potential for golf tourism with the bonus of the cultural, historical and natural sightseeing of the region.
There are five golf facilities already operating in Belek. There are underwater diving centres on the coast, primarily in Kemer, Camyuva, Olympos, Adrasan, Kas, Kalkan, Ucagiz, Kekova, Side and Alanya. In addition, yacht tours are organized from the port of Antalya to Duden Waterfall-Karpuzkaldiran and Kemer, from Side to Alanya, from Demre-Cayagzi to Kekova, from Kas to Kekova, from Kemer to Cirali-Olympos-Adrasan and Cape Gelidonya. There are also boat tours on Manavgat creek and canoe tours on Xanthos creek. In addition, Blue Cruise, which covers the southwestern Anatolian coast, ends in Antalya. There are ferryboat trips from Alanya to Cyprus and from Antalya to Italy. Antalya today is a world tourism centre with its unique touristic accommodation facilities, nature and historical beauties.
When you book your Antalya Holiday in Turkey with us, you have our guarantee that no promises will be left broken, that every aspect has been taken into account for your enjoyment, and all the hard work is done on your behalf. Our Tours in Antalya cover historical, cultural as well as culinary, ecological, natural aspects and other religious themed tours as Biblical, Islamic and Jewish tour packages on offer. You can check out our guaranteed departure Antalya tours available.
Our Antalya tour packages in Turkey are offered with private and regular prices from 1 pax to 40 pax. You can get better rates for the number of pax for your Antalya Vacations. We are one of the largest Tour Operators in Turkey with our office in Istanbul and have all services available through the remarks below. Antalya Local Destination Management Company (DMC), Travel Agency, officially titled as Murti's Tour with registered tourism agency number of 5291 by the Ministry of Tourism.
As Antalya Tour Operator, we will provide you the best services possible at the highest quality with affordable rates and without any broken promises. Most importantly we want to offer the best and the most efficient Antalya Tour vacations throughout Turkey, whilst maintaining quality of service, quality of life and value for money.