Istanbul Private Airport Transfer

The popularity of our Istanbul Airport Transfer service is increasing, as it makes the travel more comfortable and stress-free. This service is the most comfortable and economical way to reach your accommodation when you land at the airport in Istanbul. Due to its efficiency and economy, our Istanbul airport transfer service is preferred by travellers travelling for vacation or business purposes.
After booking the Istanbul Airport Transfer, you will receive a confirmation e-mail. We formally guarantee the availability of the service after receiving the confirmation email. Our driver will be waiting for you at the airport at the exact time the transfer is booked for, without the risk of delay. Your Istanbul Airport transfer service will be carried out without any problems and worrying about the details of how to reach your hotel or your destination. Istanbul Airport Transfer Is Suitable For Everyone.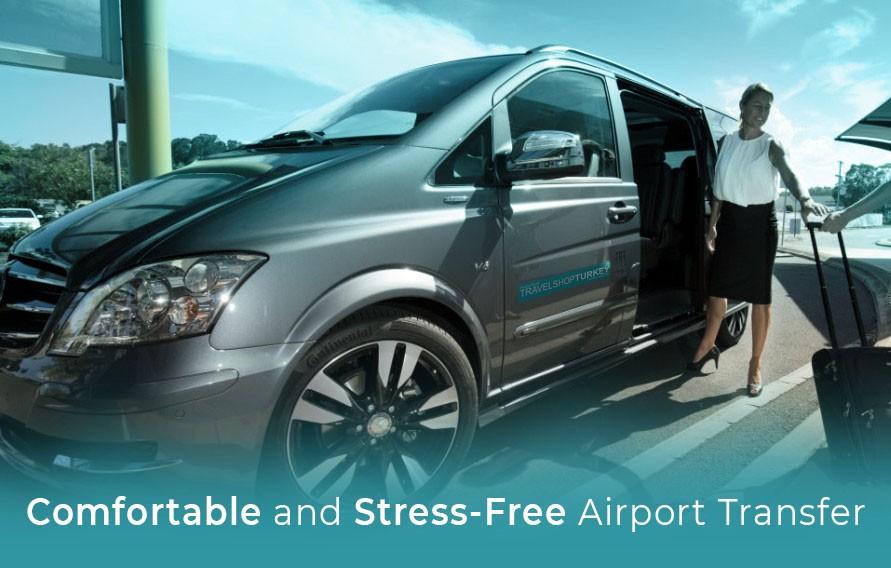 Istanbul Airport Transfer Is Suitable For Everyone
It is more convenient to book your Istanbul airport transfer before arrival. So you don't have to worry about the details of how to get to your destination. This way, you will experience a lot less stress on your journey. Our transfer service is smooth. We will be waiting at the airports in Istanbul to get you to your destination. Don't worry about last-minute changes. You are not charged extra due to delays in your flight. Your driver and vehicle will wait for your plane to land at the airport, even if it is delayed. It will allow you to reach your destination safely and comfortably.
All Vehicles are disinfected
All our vehicles are regularly disinfected. Our driver pays attention to hygiene and social distance rules.
Highlights of Istanbul Airport Transfer
Our private airport transfer service is very economical, especially for long-distance transportation. (Transfer prices are more affordable than taxi hiring)
It has a flexible payment method. If you wish, you can pay the relevant fee at the time of booking. Thus, you do not waste time exchanging currency at the airport.
You can count on the all-inclusive airport transfer price confirmed before booking. You will never be surprised about the fee. We guarantee that the fare will not change in cases such as traffic jams or longer roads.
TravelShop Turkey drivers disinfect vehicles regularly. They wear masks and follow all hygiene rules.
Our transfer vehicles have Safe Tourism certificate. Enjoy a peaceful and comfortable journey with our licensed, insured and supervised professional drivers.
Cheap Istanbul Airport Transfer Service
It is much more economical to book your Istanbul Airport transfer before your flight. When you want to reach the airport by taxi, you will feel very hectic as soon as you arrive at the airport. Moreover, it is not clear how long you will wait for the taxi. There is a possibility that the taxi being the dirty, neglected and uncomfortable vehicle. You may also encounter with unforeseen fees. Istanbul Airport Transfer service is more affordable than a taxi. With the convenient Istanbul airport transfer service, you will reach your destination comfortably and stress-free.
New Istanbul Airport
The new Istanbul Airport started operating in the autumn of 2018. It is approximately 50 km from Istanbul city centre. It is located in Arnavutköy district as Turkey's largest international airport.
New Istanbul Airport
Istanbul Sabiha Gökçe Airport is located within the borders of Pendik district. The foundation of the Airport was laid in February 1998. Its construction was completed in January 2001. Turkey's first woman pilot's name given to this Airport "Sabiha Gökçen".
Contact Us Now To Book for Your Airport Transfer service
Istanbul Airport Transfer Prices
100% Fixed Price Guarantee, No Surprise Charges
| Vehicles | Istanbul Airport - Hotel - Istanbul Airport | 4 Hours Renting Vehicle | 8 Hours Renting Vehicle |
| --- | --- | --- | --- |
| Mercedes E class, Executive Car 1-3 pax. | 150€ | 175€ | 250€ |
| Mercedes S class-Luxury Car 1-3 pax. | 270€ | 320€ | 475€ |
| Mercedes Vito 1-6 pax. | 90€ | 90€ | 120€ |
| Mercedes Vito FULL VIP 1-4 pax. | 140€ | 140€ | 170€ |
| Mercedes Sprinter 1-12 pax. | 75€ | 75€ | 90€ |
| 27 Seaters Midibus 10 - 18 Pax | 135€ | 135€ | 150€ |
| 46 Seaters Deluxe Coach - 44 Pax | 190€ | 190€ | 220€ |